Introducing the Ford Family
We're Here For You
Ford of Galesburg always puts customers first!
Don't take our word for it: Read our reviews and see what everyone is saying.
}
They are very knowledgeable and friendly. And I would buy another car anytime 😊, also had my nephew buy from you..
Good and prompt service. Staff was informative and helpful. Great buying experience. Would recommend to others.
Very courteous and kept me informed on repairs and when vehicle would be ready. Timely work was performed.
Everyone has been kind, above caring and helpful in every way possible.. I feel my Vehicle is in a safe place. I wasn't able to pick up my vehicle after the repairs were completed. I call the dealership ; explained my situation ( I have a special needs child in a wheelchair ) with no hesitation they brought it to me ,they showed with a big ; HAPPY TO HELP SMILE ON THERE FACE I WIILL BE A FOREVER CUSTOMER
Very friendly! I appreciate they drive me to my work and return my car to me.
They were professional and kind. Did a thorough job. In a faster time than they thought.
Communicated very well. Timely service. Highly recommend
Enployees were very helpful and patient w me as I had no idea what an ABS symbol meant. They ordered the part. Mechnics did an efficient job correcti the issue. Thank you Ford of Galesburg.
Thank you guys so much for all the help you gave us! We went from a horrible mess because of another dealership to an awesome experience! Dusty and Stephanie were great in making everything smooth and answering all our questions! Everyone from service to sales are wonderful and friendly!
Everyone was so nice! Quickest process of buying a car I've gone through!
I had a great experience at Ford of Galesburg with Dustin Evans . I started a new job and needed a vehicle with less gas mileage than my vehicle, within a certain price range, and great mpg since I would be traveling to work. I walked in and let him know all of my needs and I walked out with a vehicle! Thanks!
Great interactions every time I'm there whether it be my salesman, Dustin Evans, or the service department!
It was a wonderful experience probably one of the best around will recommend them to anyone who needs a vehicle
Very quick and easy. Was there right before close and they were very accommodating and willing to stay after close. Had it pulled up and ready for us to see and test drive upon arrival.
Much friendlier than the last owner. Had a actual conversation with the staff other than the waiting room is over there. They also made time to put my recall master cylinder on while I was getting oil changed. My schedule is busy and they were accommodating. I will bring my other fords back too them
Very professional and pleasant people to work with but this sort of thing, 15 words not good
Picked up our new Maverick in June . Salesman was very good and took his time to get us acquainted with the Hybrid . Later the maintenance department helped us install some extra cup holders and items from Ford. Very good people to work with .
The visit was fine,oil changew and inspection no problems. Quick and easy
They got me in quickly. The work was completed correctly. I was very happy with my service.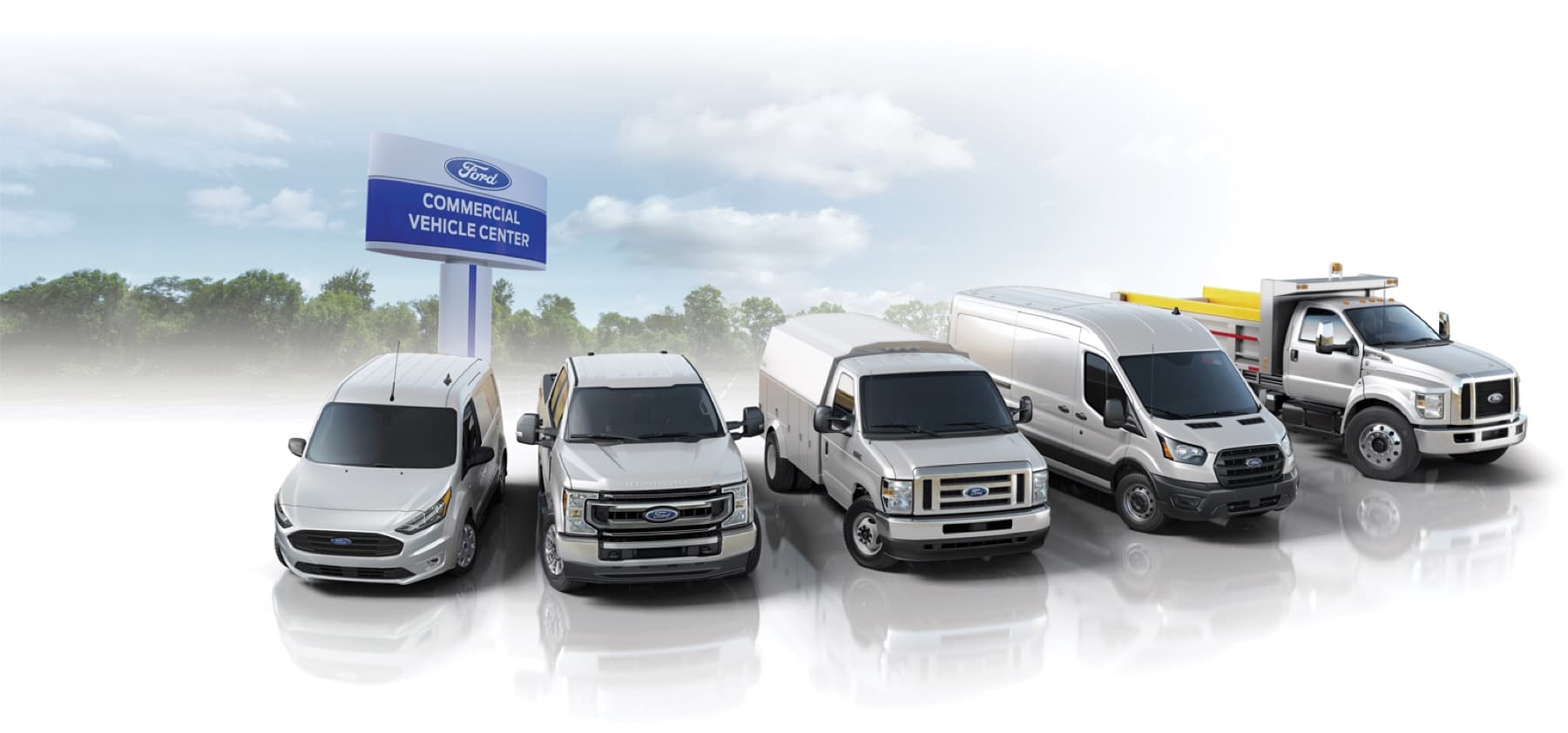 Built for the Road Forward
Your job has never been tougher. And we'll be here to help you keep working. Ford Commercial Vehicles are engineered to withstand the severity of everyday on-the-job duty.

Welcome to Ford of Galesburg
Who We Are
Ford of Galesburg carries a huge selection of new and pre-owned vehicles in Galesburg, IL. If you're looking to lease or finance your next Ford, Ford of Galesburg has competitive lease specials and financing options on new Ford vehicles. Ford of Galesburg also has an extensive collection of quality pre-owned and certified vehicles at affordable prices to suit your needs.
At Ford of Galesburg, Customer Satisfaction Is #1
Ford of Galesburg is your trusted Ford dealership in Galesburg and the reason why our loyal customers keep coming back. We offer an extensive new and pre-owned inventory, as well as lease specials, finance options and expert auto service. We are dedicated to providing exceptional customer service and being an integral part of our community. We look forward to seeing you soon!
Get Financing
Explore finance options that meet your individual needs. Whether you decide you would like to lease or own your new vehicle, our financing team is here to work with you, so together you can decide on truly what is the best car loan or lease option fits your budget the best. This way, you'll feel confident cruising the streets of Galesburg, IL, not just because you are in a stylish new model, but a properly financed one as well.
Contact Us