Introducing the Ford Family
We're Here For You
Ford of Galesburg always puts customers first!
Don't take our word for it: Read our reviews and see what everyone is saying.
}
They are friendly and knowledgeable. Treat you with respect and dignity. Take good care of your problems & resolve them.
Was a great experience! Dustin made it very easy and was extremely helpful and courteous!!!!
Just needed an oil change. They were friendly and on time.
Didn't have to wait long at all. Loved the over 65 free oil change!
I hadn't been to a dealership for over 25 years due to a horrible experience with Shottenkirk. Working with Dustin at Galesburg ford was a pleasure.
Not matter the reason I have my car in the garage they always make me feel important and my concerns are always taken seriously, I'm always treated with the upmost respect and I will continue using Ford of Galesburg.
Amazing !!! my 2017 Ford Edge on 5/11/23 it sat for a week before Bolin's could pick it up. Thurs the 18th Bolin's towed my car to their shop. On 5/24 i called to find out about my car and they told me they could not fix it. So i go to Galesburg Ford Dealer and told them my car was broke down and had been at Bolins for almost a week and i with my 100lb german shepherd service dog just want to go home. So they tell me get your car here and we will look at it today. So i went back to Bolins to have them tow my car to the Ford dealer. They wont tow it until i pay for the tows. So i pd . So then the Ford dealer calls over 2 hours later n asked if i was going to get them my car. Then said never mind its here and i just got the keys. The very next morning they call to say i need a new engine. The new engine was better than going in debt for a new car plus with a new engine its as good as a new car. Plus i LOVE my lil car. So we have a 3 year unlimited miles warrenty. My new engine got there Fri and its memorial weekend. I didnt expect my car to be ready until wed or thurs. But guess what, I got a call tues 5/30 and they say your car is ready. I am speechless!! I knew the ford shop would be closed due to the holiday, but the mechanic who was working on my car went in on Sun and Mon while shop was closed to work on my car so i could go home. I live over 500 miles away. You hear that Dealerships rob you blind but getting a new engine is not cheap it takes ALOT of time to get the old 1 out and be ready for the new one. Labor alone was over 3200. But well worth it. I am home after 2 weeks waitting for my car. Bolins did not have the proper tools to work on my car. I am so thankful for the Galesburg Ford Dealership. They got me home and my car runs great. So if you need your car worked on they are very fair and ready to work with you. Everyone from the service dept to cashier were all so helpful and amazing. I dont know who the mechanic was but thank you from the bottom of my heart for fixen my car and getting me home. Thanks to you all you deserve 10 stars in my book. God bless you all.
I got an oil change for free and they also checked all fluids, my battery and my tires.
josh Alvarado did a great job with my trade in. got me in my jeep quick and simple would definitely recommend considering working with ford of galesburg on getting your new vehicle
Was very helpful took me in same day I got there very good at what they did
Lisa is a wonderful service advisor, explains what my vehicle needs and the cost. She's not only concerned about the mechanics of the car but the aesthetics also . Great job.
Dustin was easy to talk with and made the process easy and fast great place to buy from will buy again from there
Very nice and helpful very easy to deal with liked the whole process was great
Went in for a free, yes, free oil change for seniors and service was excellent; wait was minimal! Great service!!!
Dustin, Stephanie and the whole team at Ford of Galesburg made purchasing my car from them simple and easy !
Our sales Rep. Dustin Evans was amazing friendly, courteous made the process of ordering our dream vehicle a smooth process.
This was my first experience with body shop.Dave made it so easy got appraisal and apparently. When I dropped car off was given a ride home. When I picked car up it was pouring down rain Dave drove my car inside so I wouldn't have to go out in rain. Now this is customer service. My car looked great! Thank you to everyone in body shop
Lisa was pleasant to work with she kept me informed on the progress of my truck I'll be back
Great deal for seniors and great service.
Galesburg Ford was awesome too work with. They understood our needs and was ready when we came into town. Awesome dealership!
The owner of the shop helped solve my problem he was very understandable with the issue I truly appreciate him thank you again Sir.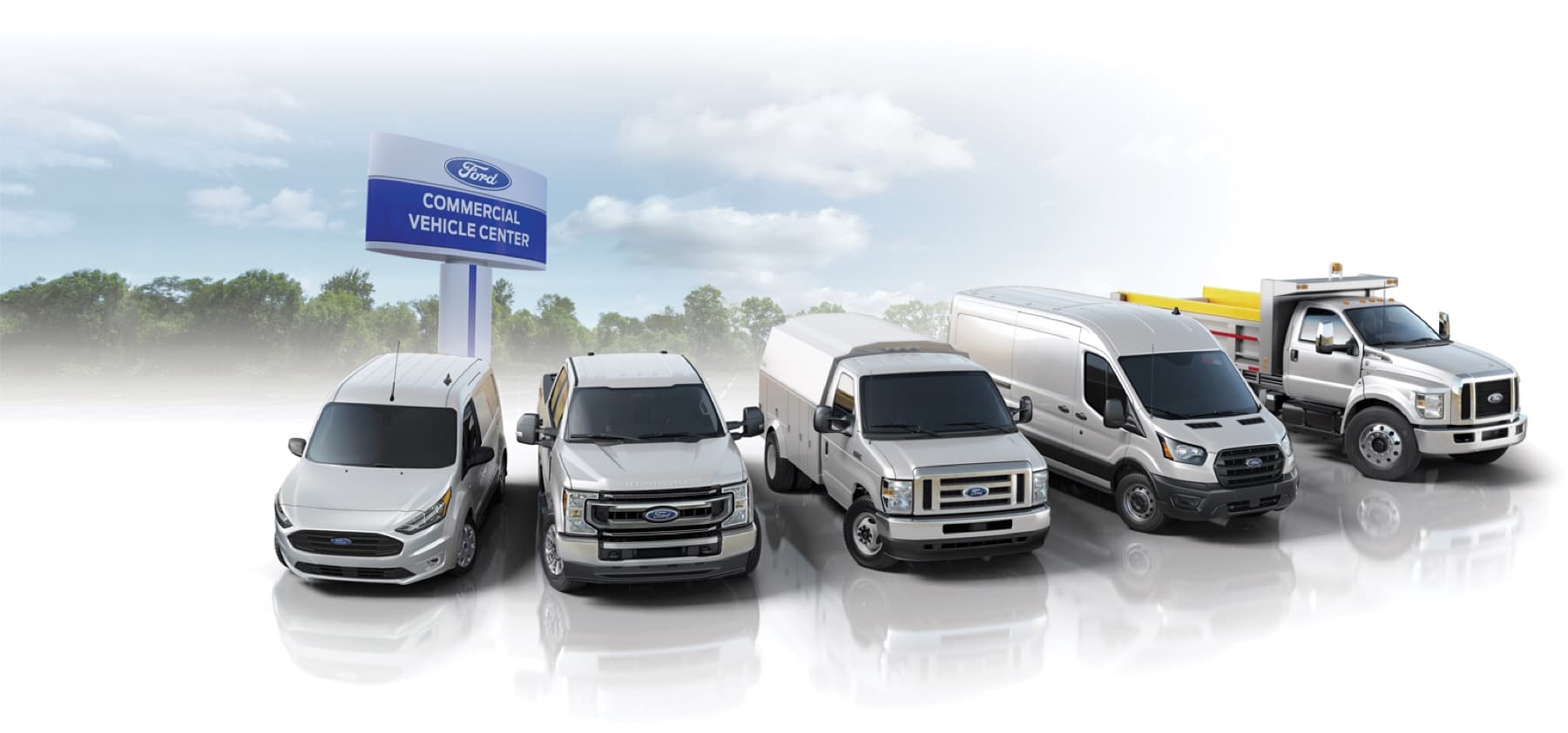 Built for the Road Forward
Your job has never been tougher. And we'll be here to help you keep working. Ford Commercial Vehicles are engineered to withstand the severity of everyday on-the-job duty.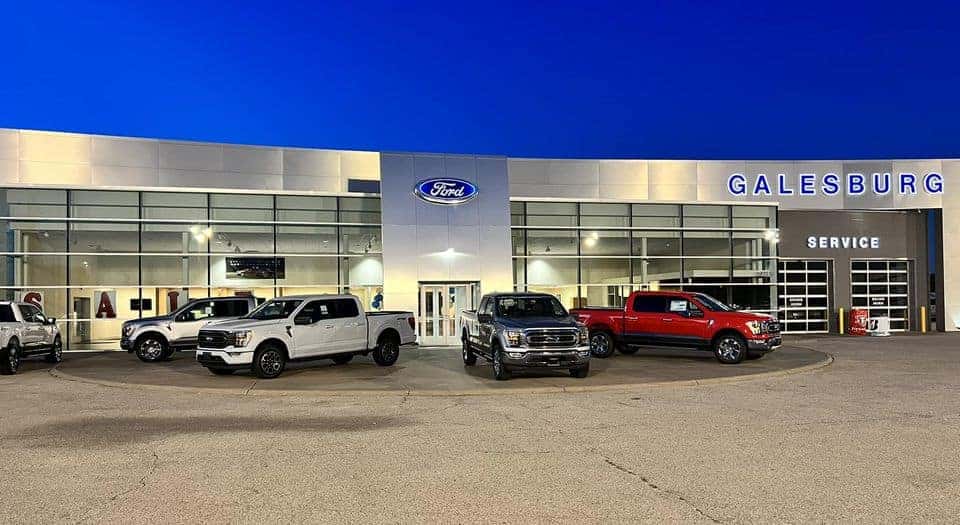 Welcome to Ford of Galesburg
Who We Are
Ford of Galesburg carries a huge selection of new and pre-owned vehicles in Galesburg, IL. If you're looking to lease or finance your next Ford, Ford of Galesburg has competitive lease specials and financing options on new Ford vehicles. Ford of Galesburg also has an extensive collection of quality pre-owned and certified vehicles at affordable prices to suit your needs.
At Ford of Galesburg, Customer Satisfaction Is #1
Ford of Galesburg is your trusted Ford dealership in Galesburg and the reason why our loyal customers keep coming back. We offer an extensive new and pre-owned inventory, as well as lease specials, finance options and expert auto service. We are dedicated to providing exceptional customer service and being an integral part of our community. We look forward to seeing you soon!
Get Financing
Explore finance options that meet your individual needs. Whether you decide you would like to lease or own your new vehicle, our financing team is here to work with you, so together you can decide on truly what is the best car loan or lease option fits your budget the best. This way, you'll feel confident cruising the streets of Galesburg, IL, not just because you are in a stylish new model, but a properly financed one as well.
Contact Us